Electrical engineering
Bachelor of Engineering.
Dual studies program in Electrical Engineering at STOBER
Young people with a passion for technology have a home here – we give you the perfect start for your future career. As a dual university student, right from the start, you are involved when we take on new projects and launch trendsetting technologies.
Your dedication is in demand and will be greatly appreciated by your colleagues. Join a team that treats you as an equal and is glad to share its expertise with you.
Together with you, we put things in motion.
The training in the three-month practical phases per semester includes developing hardware and software.
The main focus is on electrical engineering, power electronics, microprocess technology, software development, processing measured values, quality management, and project work.
After the basic studies, students can choose between the main subjects of automation technology and communications engineering.
A broad foundation for professional development.


"All trainees and students should get to know as many areas of electrical engineering as possible and have hands-on experience in them. The idea is to reinforce the theoretical lessons they learn at school. I want to challenge and support them in this so that they complete their training as well as possible."

– Elmar Senneka, Electrical Engineering Instructor
Lukas Uhring on his studies at STOBER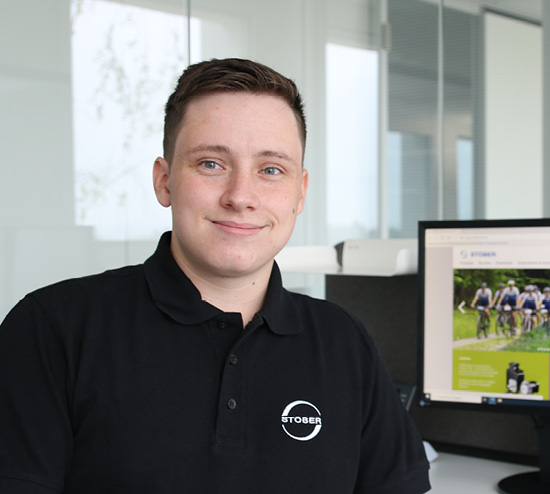 Why did you decide on the study program?
I encountered microcomputers during my school days and I thought it was a lot of fun. So the decision to study electrical engineering made sense.
Why STOBER?
STOBER was able to win me over with its good reputation, and also by being close to where I live.
What tasks and activities are part of your training?
In the first practical phases, the tasks were mainly about learning the principles of electrical engineering. Now, I'm working on various projects.
What do you enjoy about your training and your job?
Cooperating with colleagues and working on projects independently.
What qualities and skills do you think a person should bring to the job?
They need to enjoy mathematics and logical thinking.
What personal tips do you have for students?
Visit training fairs to learn about different kinds of apprenticeships and dual courses of study.
What was your best experience here at STOBER?
What does the training at STOBER mean to you?
It is future-oriented, my instructor is friendly, and there are many people to contact if you have any questions.