Dedicated IT experts have a home here – we give you the versatile challenge you are looking for. Where enthusiasm and creativity meet, new ideas can unleash their full effect. This requires motivated visionaries who meet opportunities with ideas and boldly break new ground. Join a team that stands by each other and supports one another – even when it does not involve their own tasks. As a team, we're at our best. That's the only way to keep things moving.
Whether you have little or a lot of professional experience or are just starting out in your career, you will find interesting tasks and challenges at our company. We provide the right training programs to help you develop your career skills.
We offer exciting, attractive, and challenging positions in a wide range of fields.
SAP.
Digital IT.
Infrastructure.
Security.
Tobias Weber on his job at STOBER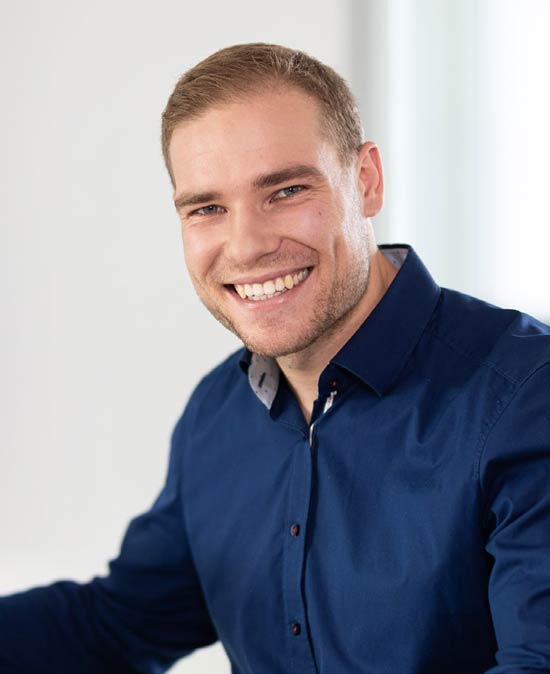 What is your role here at STOBER?
I support, optimize, and further develop SAP processes in logistics. I develop concepts to integrate innovations into the existing SAP landscape in the best possible way as part of the digitalization process.
What skills do you think are particularly important for the job?
Analytical and methodological skills, but also social skills for leading discussions and meetings. Other important factors are the ability to work in a team, flexibility, quick comprehension, an affinity for software, and also sound knowledge of business processes.
Have you mastered any particular challenges? How did you manage them?
The paperless manufacturing project had some major requirements and challenges. We accomplished it by working closely with the relevant internal departments on the requirements and the concept that was developed. And it was thanks to strong team collaboration within the SAP department when implementing the concept, plus using the knowledge that has been built up in the SAP department regarding data structure analysis and programming.
Why is STOBER the right employer for me?
• Job security
• Many opportunities to get involved and implement ideas
• Interesting products and processes
What was my best STOBER moment?
Not exactly a nice moment so much as a nice, interesting insight – implementing SAP at STOBER in the USA. It was very exciting to get to know the country and the mentality. It was also exciting to see the existing business model there and the processes involved, and to support them in their implementation.