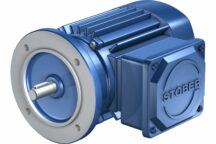 Asynchronous motors: An evergreen classic
In the game for over 100 years, the classic asynchronous motor is still one of the most popular power transmission motors.
STOBER asynchronous motors are IE3-certified and therefore feature excellent energy efficiency and high profitability!
Another plus point is that these asynchronous motors are attached directly to STOBER gear units (helical, offset helical or helical bevel) as standard – without any interfering adapters. It's an advantage in terms of compactness, efficiency and costs.
STOBER as a development partner.
"We are very satisfied with the result and we will keep relying on the professional support STOBER provides. Partnerships like ours with STOBER are a particular advantage for us in custom mechanical engineering because this requires very specific solutions."
– Johannes Stocker, Electrical Systems Designer, e & v Systeme GmbH
We get your visions moving
in various industries and markets worldwide.
Using a holistic approach for your specific task, we support you with precisely tailored solutions for drives and automation.
More than Asynchronous motors: This might also interest you