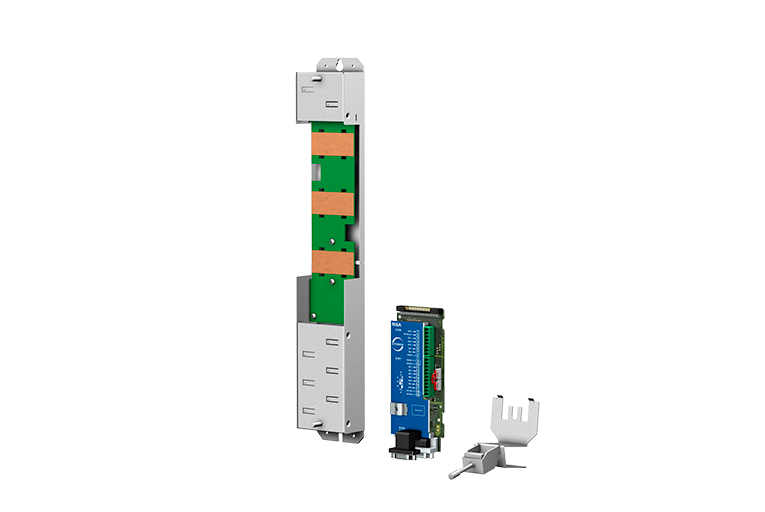 Useful supplies:
Electronic accessories.
Do you want to add terminal modules to the drive controller? How about taking advantage of DC link connection? Would you like to reduce bothersome faults in the network? What about operating a linear motor?
Find the extra piece you are looking for and round off your STOBER solution perfectly!
BENEFITS
The perfect supplement
The perfect way to round it off
In a STOBER system, the details also make the difference. Discover electronic accessories that make your individual drive solution an easy fit.
Communication modules
We speak your language
Various communication modules to connect field buses such as EtherCAT®, PROFINET®, PROFIBUS-DP® or CANopen® to all 6th generation STOBER drive controllers and all series of the 5th generation STOBER inverter generation. For standard-compliant data communication.
Terminal modules
The attached I and O
For connecting analog and binary signals and also encoders, we offer a wide variety of terminal modules that can be integrated into all 5th and 6th generation series.
DC link connections
Be smart and save with Quick DC-Link
All series in the 6th generation of STOBER drive controllers have the option of a DC link connection.
This technology makes it possible to use the regenerative production of energy from one drive as the motor energy by another drive.
To able to set up a safe and efficient rail connection for DC link connection, we have developed the patented Quick DC-Link rear section module that connects the DC links of the individual drive controllers via copper rails.
The rails can be attached without any tools using quick fastening clamps.
Braking resistors
The energy converters
When a motor brakes, the kinetic energy of the drive system is fed back to the DC link capacitors of the drive controller.
However, the capacitance of these capacitors is limited to a defined maximum voltage.
From a certain voltage level, an integrated brake chopper connects the braking resistor as a consumer. This absorbs the existing braking energy, the voltage drops and the kinetic energy is mostly converted to heat.
In addition to the various drive controllers, STOBER offers the associated braking resistors in a wide range of designs and performance classes.
Chokes
For a longer line
We naturally also have ready-made power and output chokes that match your particular field of application.
Power chokes are inductive metal wire coils that reduce unwanted harmonics or distortion in the power system.
They also relieve the DC link capacitance of the drive controllers.
Output chokes reduce the charging current peaks caused by clock signals and line capacities. They make it possible to use long motor cables, increase the motor service life and reduce harmonic currents.
EMC shielding plates
Perfectly shielded
EMC shield plates for shield connection of the power cable for the SD6 drive controller and the SDS 5000 inverter. The plates can be attached to the particular base housing.
If necessary, you can also connect the cable shield of the braking resistor and DC link connection to the shroud.
Encoder adapter boxes
When things get linear
Are you operating a linear motor?
This is no problem for the LA6A00 interface adapter for differential TTL incremental signals and single-ended TTL hall sensor signals.
Encoder adapter box is used for converting and transferring TTL and Hall sensor signals from synchronous linear motors to the SD6 drive controller.
A variable, internal interface converts the input signals appropriately for the STOBER standard interfaces.
Do you have any further questions or requests about linear motors? No problem. Please contact us.
HTL-to-TTL adapters
The highest signal flexibility possible
Our HT6 adapter for the SC6 and SI6 series drive controllers is used for the level conversion of HTL to TTL signals or for connecting an HTL differential incremental encoder.
Encoder battery module
Well buffered
The AES module (Absolute Encoder Support) buffers the supply voltage for EnDat® 2.2 digital inductive encoders with a battery-buffered multi-turn output stage, such as EBI1135 or EBI135.
This prevents the supply voltage in the circuit from dropping due to short-term current peaks.
Available for 6th generation drive controllers and the SDS 5000 servo inverter.
Removable data storage
Quick commissioning in series
Super practical: The plug-in Paramodul as a storage medium with an integrated microSD card.
For fast series commissioning through simple copying and for uncomplicated service if a device needs to be replaced.
It saves time and spares your nerves.
The Paramoduls are available for the SD6 drive controller and the SDS 5000 servo inverter.
PS6 supply modules
Customized energy use
The SI6 drive controllers are connected to a central PS6 supply module.
There is no need for decentralized supply modules or fuses and cabling for each axis.
When using double-axis modules, the unused power reserves of one axis can be used for other axes.
It's a significant reduction in space requirements and costs!
SERVICES
Consulting & support
Technology Consulting
Take advantage of the expertise of our application engineers in the Sales Centers or contact our first level support.
OPEN
Tools & software
SERVOsoft®
With SERVOsoft®, you have a tool at your fingertips that lets you design your drive systems with precise scaling in just a few steps. Electrical as well as mechanical design, and simple and fast at the same time.
OPEN
STOBER Configurator
With the intuitive STOBER product configurator, you can filter, compare, save and share the right drive solutions with ease.
OPEN
STOBER CAD
Are you looking for CAD data? With the STOBER CAD tool, the drawings you need are ready for download in just a few clicks.
OPEN
Service, replacement & repair
Service Network
STOBER is present in over 40 countries worldwide with 12 subsidiaries and 80 service partners. No matter where, no matter when, we're always at your service and on the move!
OPEN
Replacement & Repair
Do you need competent help with replacement parts, replacement drives, repairs and retrofitting? Feel free to contact us! We also offer a 24-hour hotline for urgent cases.
OPEN
24-hour emergency number for urgent cases.
We are here for you.
STOBER as a development partner.
"We are very satisfied with the result and we will keep relying on the professional support STOBER provides. Partnerships like ours with STOBER are a particular advantage for us in custom mechanical engineering because this frequently requires very specific solutions."
– Johannes Stocker, Electrical Systems Designer, e & v Systeme GmbH
We get your visions moving
in various industries and markets worldwide.
Using a holistic approach for your specific task, we support you with precisely tailored solutions for drives and automation.
This might also interest you