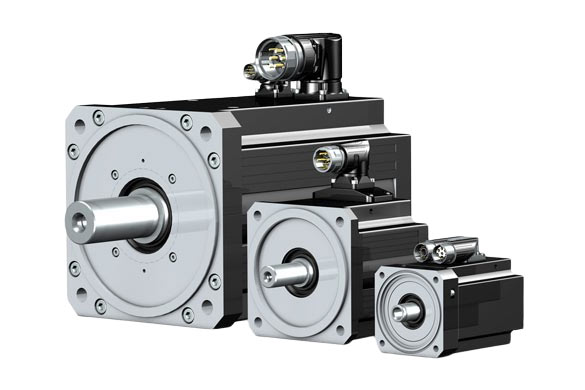 Synchronous servo motors: Power density redefined.
Super compact, maximum torque and combined with high dynamics! This characterizes our two powerhouses: The synchronous servo motors from the EZ series.
In contrast with comparable motors, STOBER has succeeded in increasing the power of the EZ engines enormously while noticeably reducing the overall length at the same time. In addition, all synchronous servo motors are available with a wide variety of encoders and holding brakes.
BENEFITS
Impressive servo motors with a long service life
With their EZ synchronous servo motors, STOBER offers you brushless, permanent-magnet and electronically commutated motors with a range of different power profiles.
The stator and rotor components are designed in different versions with an energetically optimal form. The result is an extremely low torque ripple and a high power density.
System diversity for individual requirements
The design of both series is so impressive because of the diverse range of variants and interfaces.
The motors are available in different lengths and sizes and are generally used for direct attachment without coupling on all coaxial, offset helical and right-angle gear units.
EZ: The highly dynamic, compact powerhouse
The basic requirement for the very short design is to use orthocyclic linear tooth winding. This special process allows for the stator windings to be manufactured with the highest possible copper fill factor.
The result is an approximate 80% increase in the motor rating, with the motor length almost half as long without any loss in performance.
The EZ series is also energy-efficient – thanks to the various integrable encoders, the synchronous servo motors feature the ability to provide only the power actually required for an application without wasting it. In total, the EZ motors offer powerful torque, high dynamics and precise synchronization behavior.
TECHNICAL DATA
EZ series
| | | | | | |
| --- | --- | --- | --- | --- | --- |
| Power density | | | | | |
| Price category | € | € | € | € | € |
Nominal torque – motor: 0.89 – 77.2 Nm
Stall torque – gear unit output: 0.95 – 94 Nm
Find your right fit!
FEATURES
EZ series
Shaft: Solid shaft without feather key
Forced ventilation unit: For increasing torque and continuous power or at higher ambient temperatures; also as a retrofit kit
Brake: Optional permanent magnet holding brake on the motor's B side
Power interface: Twist-on plug connectors with quick lock; optional mating connectors
Encoder interfaces:

EnDat® 3
EnDat® 2.1/2.2 single-turn, multi-turn
One Cable Solution (OCS)
Resolver
Winding protection: PTC thermistors guarantee thermal winding protection
Paint: RAL 9005 Jet black
Marks and test symbols: CE and cURus
APPLICATIONS
Pick and place
Industries and Applications
We get your visions moving – in various industries and markets worldwide.
Using a holistic approach for your specific task, we support you with precisely tailored solutions for drives and automation.
Learn more
DOCUMENTS
Title
Version
ID
Date
Language
Size / Type
No results were found.
Title
Version
ID
Date
Language
Size / Type
No results were found.
Title
Version
ID
Date
Language
Size / Type
No results were found.
Title
Version
ID
Date
Language
Size / Type
No results were found.
Title
Version
ID
Date
Language
Size / Type
No results were found.
SERVICES
Consulting & support
Technology Consulting
Take advantage of the expertise of our application engineers in the Sales Centers or contact our first level support.
OPEN
Tools & software
SERVOsoft®
With SERVOsoft®, you have a tool at your fingertips that lets you design your drive systems with precise scaling in just a few steps. Electrical as well as mechanical design, and simple and fast at the same time.
OPEN
STOBER Configurator
With the intuitive STOBER product configurator, you can filter, compare, save and share the right drive solutions with ease.
OPEN
STOBER CAD
Are you looking for CAD data? With the STOBER CAD tool, the drawings you need are ready for download in just a few clicks.
OPEN
Service, replacement & repair
Service Network
STOBER is present in over 40 countries worldwide with 12 subsidiaries and 80 service partners. No matter where, no matter when, we're always at your service and on the move!
OPEN
Replacement & Repair
Do you need competent help with replacement parts, replacement drives, repairs and retrofitting? Feel free to contact us! We also offer a 24-hour hotline for urgent cases.
OPEN
24-hour emergency number for urgent cases.
We are here for you.
Successful together in the long term.
"We have had a partnership with STOBER for more than 30 years. We think that speaks for itself."
– Hubert Rauschmaier, Purchasing Manager Technical Purchasing, MEBA Metall-Bandsägemaschinen GmbH
Our product portfolio is modular and freely scalable, offering a very wide range of combination options. A drive system for custom-fit, compact machine concepts. With the option to make adjustments to fit the project.
This might also interest you