Electricity in the blood
The Pforzheim University of Applied Sciences has had a racing forge for ten years.
Since then, the students have been celebrating regular successes on the world's major racetracks with their cars equipped with combustion engines. Each year, they engineer and build a new car. The racer for this season was called "Emerald". In 2020 they want to prove they have electricity in the blood and, for the first time, take part in Formula Student Electric (FSE). Their challenge is now to develop a competitive vehicle.
"Whether petrol or electricity – without sponsors, supporters and technology partners, all this would not be possible," says Nadine Böckle, Team Leader Sponsoring at Rennschmiede. Since 2014, the financial supporters include STOBER. "At the beginning of this year, one of our students wrote his bachelor's thesis on designing the drive train for a Formula Student vehicle at Pforzheim University," says Nadine Böckle. "That's how we got into conversation with STOBER. With the team's decision to participate in the FSE in the coming season, we have intensified our cooperation". STOBER supports the team as platinum sponsor, as the drive specialist is now also supplying tangible technology for the racecar: two rear engines with gearboxes and the necessary drive controllers. In addition, the STOBER engineers have a great deal of know-how to further develop these important components to meet the requirements.
The racing forge has been in the development phase since September. The students are currently working on the concepts and implementing them in the CAD system. Once this phase is completed, the production partners receive the 3D drawings and can get started. "When we have completed our examinations at the university in February, we will devote ourselves entirely to production," says Böckle. The racing company intends to present the new electric car to the public in late spring 2020. The team will then extensively test the vehicle – at various events and under competitive conditions. "Of course, we are particularly looking forward to Hockenheim," says Nadine Böckle. "That's practically a home game for us."
Captions: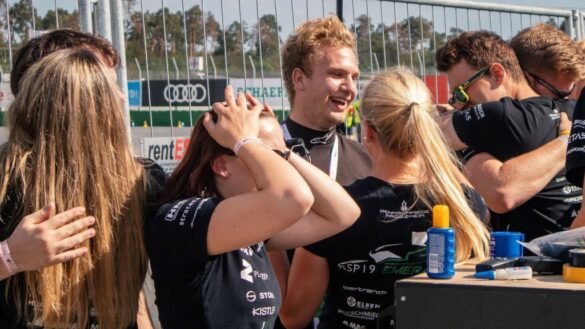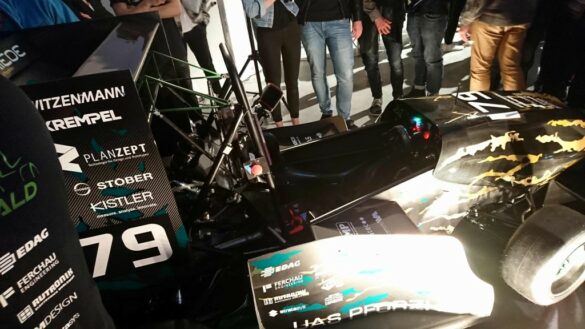 Photo credits: Rennschmiede Pforzheim
Media contact, editorial / market overviews:
Please note the new persons responsible for PR & media:
STÖBER Antriebstechnik GmbH + Co. KG
Claudia Grotzfeld
Kieselbronner Str. 12
75177 Pforzheim │ Germany
Fon: +49 7231 582-1460
claudia.grotzfeld@stoeber.de
www.stoeber.de
Media:
STÖBER Antriebstechnik GmbH + Co. KG
Solveig Moll
Kieselbronner Str. 12
75177 Pforzheim │ Germany
Fon: +49 7231 582-1183
solveig.moll@stoeber.de
www.stoeber.de
Please send a specimen copy to our agency:
a1kommunikation Schweizer GmbH
Eva Neubert
Project Management│Client Support
Oberdorfstr. 31A
70794 Filderstadt│Germany
Fon: +49 711 945 416-27
eva.neubert@a1kommunikation.de
www.a1kommunikation.de
Contact data for country-specific publication:
Germany:
STÖBER Antriebstechnik GmbH + Co. KG
Kieselbronner Str. 12
75177 Pforzheim
Fon: +49 7231 582-0
sales@stoeber.de
www.stoeber.de
Austria:
STÖBER Antriebstechnik GmbH
Hauptstraße 41a
4663 Laakirchen
Fon: +43 7613 7600-0
sales@stoeber.at
www.stoeber.at