STOBER has started the new year with a good deed. Sterneninsel, the outpatient children's and youth hospice service for the city of Pforzheim and the 28 Enzkreis communities, was pleased to receive a donation of 8,000 euros from the drive specialist from Pforzheim at the beginning of the week.
The donation is thanks to the commitment of STOBER employees. Over the past two years, they have contributed and implemented numerous ideas for improvement as part of the company suggestion scheme.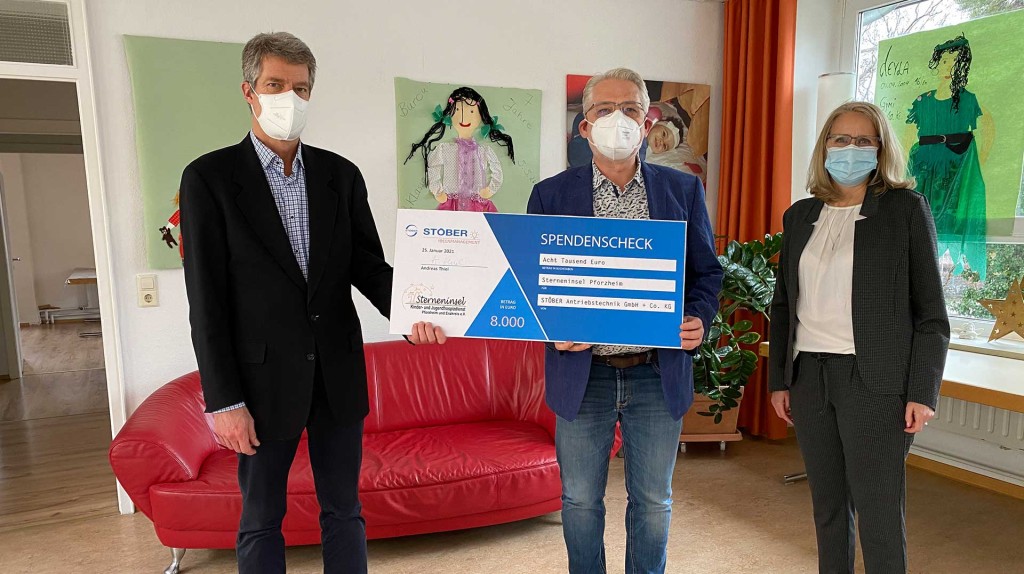 "Our goal is to promote a creative and innovative corporate culture in which employees are involved and idea potential is utilized. Good ideas are rewarded financially," says Andreas Thiel, Managing Director of STÖBER Antriebstechnik GmbH + Co. KG. For the benefit of Sterneninsel, all successful idea providers waived ten percent of their bonus. In the process, 4,000 euros were collected. A large amount, which the management was happy to double for Sterneninsel.
Sterneninsel can make good use of this donation at the present time. "Our families, which are usually socially weak, always have a child with a life-limiting illness and live in extremely strained economic circumstances. The current Corona crisis drastically exacerbates this situation. The donation makes it possible to provide individual relief in a variety of ways. For example, from an excursion for the sick child to repairing the broken washing machine – we can help in a variety of ways," says Thorsten Gieske, Chairman of Sterneninsel. For Andreas Thiel, one thing is certain: "We will continue with this campaign. It leads to pleasing win-win situations for everyone involved."