Your partner for perfect motion
STOBER at SPS 2023.
How does predictive maintenance work with geared motors, how can geared motors be connected to the Siemens Motion world, and how do designers benefit from the direct mounting of rack and pinion drives? STOBER will answer these and other questions at the SPS in Nuremberg (November 14 – 16). For this purpose, the drive specialist has prepared various trade fair models. The message: As a partner, STOBER provides its customers the support they need to implement complex motion. Users benefit from reliable, cost-effective, and powerful solutions.
Pforzheim, Germany, 2023-10-16 – In Nuremberg, STÖBER Antriebstechnik GmbH + Co. KG will use a trade fair model to demonstrate a feature for the predictive maintenance of geared motors. The star feature of this IoT solution: Users do not require any special know-how to evaluate the information and handle it accordingly. No additional sensors, cables, software or hardware components are required. With predictive maintenance from STOBER, users get maximum transparency and unlimited access to the measured data of their drive system. Users can recognize trends and are consequently able to act as efficiently as possible.
Digital twin – STOBER powered by Siemens
STOBER goes PROFIdrive & PROFIsafe – in cooperation with Siemens, the drive specialist will show its full connectivity with Siemens Motion solutions using a digital twin. In order to be able to implement even complex applications, STOBER supports drive connection via PROFIdrive and with PROFIsafe. The result is certified communication for the highest safety requirements (SIL 3, PL e, category 4). The model includes various components from the drive specialist such as bevel gear wheel and planetary geared motors, the SC6 and SI6 series drive controllers, and hybrid cables. Siemens supplied the necessary software for the provision of CAD data and for the actual simulation, which is shown in a separate display.
Size XL precision
STOBER is also bringing the fourth generation of its PH series to Nuremberg. The large servo planetary gear unit is particularly impressive due to its outstanding precision, low backlash, and high tilting stiffness. Particularly in combination with the compact synchronous servo motors of the EZ series, users benefit from a geared motor with a lower mass moment of inertia – after all, a motor adapter is no longer required.
STOBER will also demonstrate the XL precision gear unit in combination with an extremely compact synchronous servo motor with holding brakes and an additional brake in a motor adapter. This STOBER 2-brake solution is suitable for the design of gravity-loaded axles. However, the system is not safe until the SD6 drive controller and SE6 safety module developed in cooperation with Pilz GmbH & Co. KG are added. This gives planners and engineers a system solution that fulfills the requirements of EN ISO 16090-1 for gravity-loaded vertical axes. All safety requirements also comply with EN 61800-5-2 and are certified to SIL 3, PL e, category 4.
E stands for economy
Another trade fair model consists of the second generation of planetary geared motors in the PE series in combination with the economical Lean motor from STOBER. Compared to common straight-cut gear units, the helical gearing of this economy version ensures low operating noise and a good degree of evenness. Users benefit from a cost-effective and simultaneously powerful solution. In the second generation, the developers were able to further improve performance by increasing the acceleration torque by 45 percent and also increasing the nominal torque by 50 percent. The gear units are also lighter and more compact.
From full rotation into linear motion
STOBER will also be showing a model with a rack and pinion drive in the ZV series, a helical bevel geared motor, and an SD6 drive controller. The rack and pinion drives are based on case-hardened, smoothed pinions with high gearing quality, and precisely matched gear racks. The motor can be mounted directly to the gear unit – without an adapter. This makes the drive unit lighter and more compact, and thus has a positive effect on both dynamics and volume. Easy-to-use: Users receive a space-saving and ready-to-install system from a single source.
Offer at the push of a button – STOBER Online Configurator
Users quickly and easily find the right drive solution with the STOBER Configurator. The online tool can be operated intuitively via its clearly designed interface. Users can quickly design their individual solution in real time with just a few clicks. For this purpose, the software has numerous filters and comparison options. After configuration, all essential information is available for download, and users can request a quote directly. STOBER is thus pursuing its strategy of providing customers with even more comprehensive support through digital services.
STOBER at SPS in Hall 3a, Booth 446
Captions: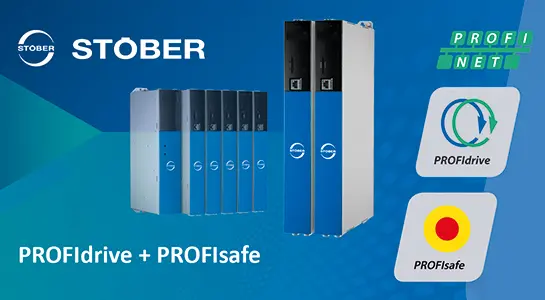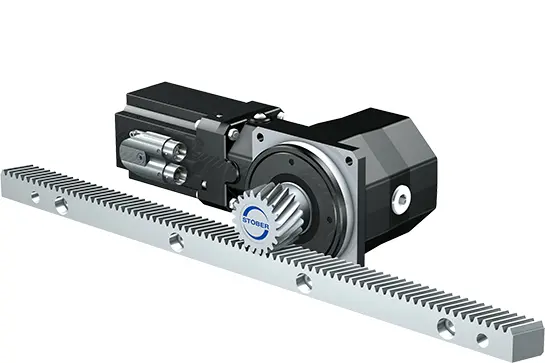 Photo credits: STÖBER Antriebstechnik GmbH + Co. KG
You can find high-resolution image material for downloading here.
Contact data for country-specific publication:
Germany:
Austria:
STÖBER Antriebstechnik GmbH + Co. KG
Kieselbronner Str. 12
75177 Pforzheim, Germany
Phone: +49 7231 582-0
sales@stoeber.de
www.stoeber.de/en/
STÖBER Antriebstechnik GmbH
Hauptstraße 41a
4663 Laakirchen, Austria
Phone: +43 7613 7600-0
sales@stoeber.at
www.stoeber.at

Media contact, editorial/market overviews:
STÖBER Antriebstechnik GmbH + Co. KG
Claudia Grotzfeld Kieselbronner Str. 12
75177 Pforzheim│Germany
Phone: +49 7231 582-1460
claudia.grotzfeld@stoeber.de
www.stoeber.cn/en/

Media:
STÖBER Antriebstechnik GmbH + Co. KG
Solveig Moll
Kieselbronner Str. 12
Phone: +49 7231 582-1183
solveig.moll@stoeber.de
www.stoeber.cn/en/
Please send a specimen copy to our agency:
a1kommunikation Schweizer GmbH
Eva Neubert
Project Management │ Client Support
Oberdorfstr. 31A
70794 Filderstadt│Germany
Phone: +49 711 945 416-27