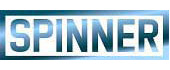 STOBER PUTS THINGS IN MOTION
Switch over to efficiency.
With its TC series, SPINNER Werkzeugmaschinenfabrik GmbH has developed powerful CNC universal lathes in various sizes. The largest version is the TC800, a compact turret lathe that reaches speeds of 2600 rpm with a maximum power of 63 kilowatts. The radial or axial turret is designed for up to 24 tools. There is also the option of a Y-axis and sub-spindle. Users can operate this machine to produce turned parts with diameters up to 800 millimeters and lengths up to 1500 millimeters.
The system is powerful when machining at relatively low spindle speeds and can also increase speeds temporarily for turned parts with small diameters in order to be able to machine them with sufficient cutting speed. For precision turning. It was precisely for this purpose that STOBER supplied the PS SensorShift two-speed gearbox.
Collaboration at eye level.
"We found a reliable partner in STOBER, which delivers high-quality products quickly and on time. We also especially appreciate the unusually constructive collaboration. We also have just one contact person at STOBER, which makes communication easier. In the early stage of development, in particular, this is very important. It puts us one step ahead of the competition."

– Helmut Maier, Head of Electrical and Software Development, SPINNER Werkzeugmaschinenfabrik GmbH
Only one gear unit required.
To switch the main feed from low to high speed and back again, only one two-speed gearbox had been installed – but it was from two manufacturers. The reason was the particular control system that the user was operating, since it also included motors from different providers and with different dimensions.
STOBER recommended the PS25 two-speed gearbox. Depending on which motor brand has to be installed, this unique gear unit lets mechanical engineers modify the gear unit interface and make the gear unit ready for attachment to the respective synchronous servo motor for screw drive within minutes, without double bearing brackets.

The further benefits.
Reliable shifting: With its two gear stages, the two-speed gearbox from STOBER is ideal for precision machining at high speeds as well as for a high machining capacity when switched to the gear reduction with motor torque multiplication.
To achieve these speeds, the gear unit has a direct gear in the first gear stage. The planetary carrier and planetary gear set are completely decoupled with a gear ratio of i = 1, and the motor torque is transmitted with almost no loss. Because this generates very little heat, this means substantially improved energy efficiency.
Efficiency above 95 percent: Without changing speeds, the user can reduce the thermal load of the machine and save money on cooling. The user can also work at significantly higher speeds than with comparable systems without increasing the heat input of the gear unit, thus increasing the performance of the machine.
It's a technically unique gear unit at an attractive price-performance ratio.
STOBER solutions for Spinner