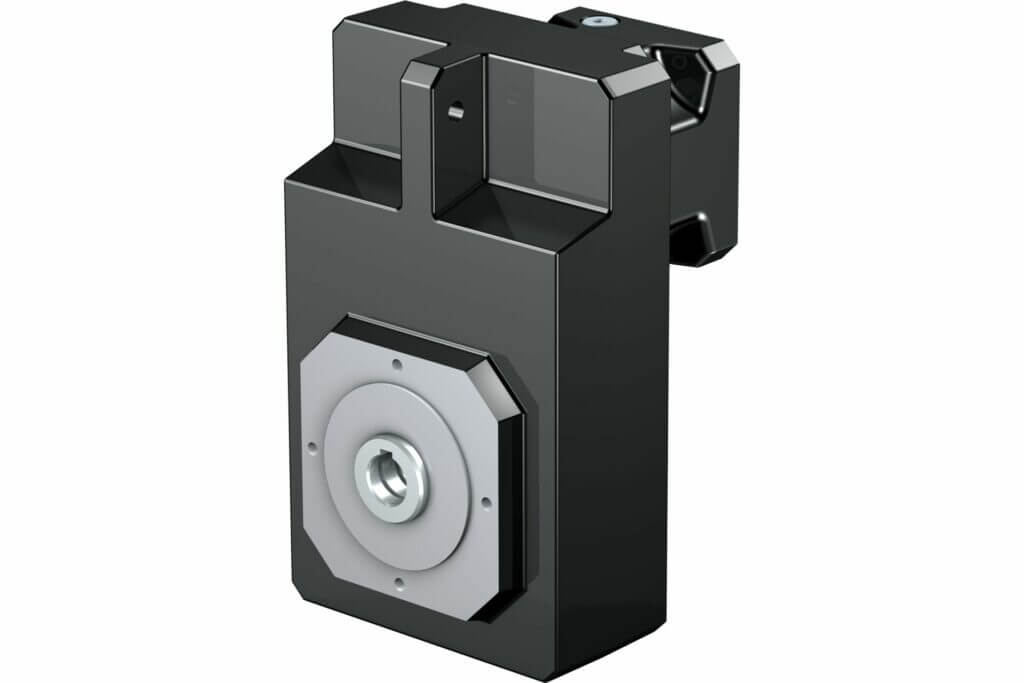 The slim black wonder: Offset helical gear unit.
The offset helical gear units of the F series have a lot to offer. They feature an extremely space-saving design, a large axial distance, high positioning accuracy, and high efficiency.
BENEFITS
Compact, space-saving and absolutely powerful
Due to the extremely flat housing of this series and the large axial distance, offset helical gear units are perfect for integration in applications that have very tight, difficult space constraints.
Another plus is that offset helical gear units are extremely fast and easy to assemble.
For high demands on efficiency, ruggedness and service life
Due to their design, offset helical gear units belong to the helical gear unit family. Therefore, their advantages clearly lie in their high efficiency.
The high-quality helical gearing of the spur-gears also guarantees exceptionally smooth operation.
Due to the nature of their rugged housing, offset helical gear units also run with extreme reliability and fail-safe performance. This also makes them suitable for continuous operation.
TECHNICAL DATA
F SERIES
| | | | | | |
| --- | --- | --- | --- | --- | --- |
| Power density: | | | | | |
| Price category: | € | € | € | € | € |
Total ratio: 4.3 – 552
Allowed acceleration torque: 78 – 1100 Nm
Backlash: 5 – 11 arcmin
Efficiency: 96 – 97%
Find your right fit!
FEATURES
F SERIES
Shaft:

Solid shaft with or without a feather key
Hollow shaft with keyway or shrink ring

Housing:

Pitch circle diameter with optional side fastening
Round or square flange
Backlash: Standard or class II
Lubricants and maintenance:

Mineral lubricant CLP ISO VG 220 or synthetic lubricant CLP HC ISO VG 220
Lubricated for life and maintenance-free
Paint: RAL 9005 Jet black
DOCUMENTS
Title
Version
ID
Date
Language
Size / Type
No results were found.
Title
Version
ID
Date
Language
Size / Type
No results were found.
Title
Version
ID
Date
Language
Size / Type
No results were found.
Title
Version
ID
Date
Language
Size / Type
No results were found.
SERVICES
Consulting & support
Technology Consulting
Take advantage of the expertise of our application engineers in the Sales Centers or contact our first level support.
OPEN
Tools & software
SERVOsoft®
With SERVOsoft®, you have a tool at your fingertips that lets you design your drive systems with precise scaling in just a few steps. Electrical as well as mechanical design, and simple and fast at the same time.
OPEN
STOBER Configurator
With the intuitive STOBER product configurator, you can filter, compare, save and share the right drive solutions with ease.
OPEN
STOBER CAD
Are you looking for CAD data? With the STOBER CAD tool, the drawings you need are ready for download in just a few clicks.
OPEN
Service, replacement & repair
Service Network
STOBER is present in over 40 countries worldwide with 12 subsidiaries and 80 service partners. No matter where, no matter when, we're always at your service and on the move!
OPEN
Replacement & Repair
Do you need competent help with replacement parts, replacement drives, repairs and retrofitting? Feel free to contact us! We also offer a 24-hour hotline for urgent cases.
OPEN
24-hour emergency number for urgent cases.
We are here for you.
Rugged gear units. Pleasant people.
"Our work together with STOBER has been going strong for many years. The price-performance ratio is good and the STOBER gear units are exceptionally robust. We have never had a problem with a drive and our contact person is always quick to help."
– Achim Knupfer, Managing Director, ALFA TOOLS Spezialmaschinenfabrik GmbH
Do you need operating and assembly instructions, replacement part lists or notes on technical features of our products?
Thanks to the STOBER Product ID., you can get the information you need quickly and easily.
This might also interest you