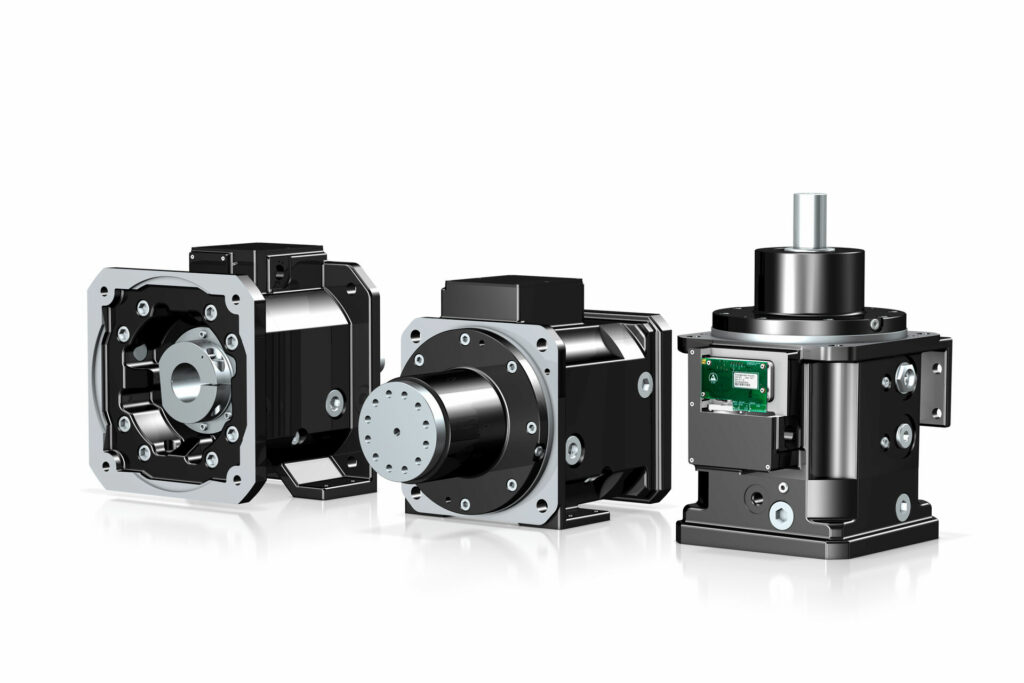 Switch over to efficiency:
Two-speed gearboxes.
High-quality workpieces need to be manufactured and machined economically and efficiently. And this is where we come in
with our innovative PS SensorShift gear unit. Operable in two gear stages with different gear ratios.
And why is this so interesting?
It's a high-precision, helical planetary gearbox, perfect for high torques in the transmitted gear. And at the same time, it is designed for high speeds – decoupled in a loss-optimized direct gear. Combined with digital gear shift monitoring for a smooth gear change.
BENEFITS
The energy-saving two-speed concept
STOBER two-speed gearboxes are extremely energy-efficient, which is one of their most outstanding properties.
The energy savings are primarily the result of a design that is more innovative than previous solutions on the market. The shifting process, between a gear stage with a transmitted gear and a stage with a loss-optimized direct gear, lets you reach high speeds or high torques within an extremely short time. What is outstanding is that gear shifts are digitally monitored.
The temperature of the gear unit also remains constantly low, even when there are frequent gear shifts or maximum speed loads.
PS gear units are ideal for all machine tools that need sophisticated drive concepts for main feeds: gantry machines, vertical and horizontal lathes, or milling and drilling centers.
High speeds and high torques
The transmitted hear of the PS series works with a proven helical STOBER planetary gear unit. The various gear ratios in this gear stage deliver high torques and are perfect for machining hard materials. In this precision design, the helical gearing is what also guarantees highly smooth operation.
In direct gear, however, the planetary set is completely decoupled. In this design, the engine torque is transmitted almost without loss – as if there were no gear unit in between. They let you reach high speeds quickly for tasks such as fine machining workpieces, for example. Energy losses are almost completely eliminated, while the dynamics increase significantly.
Clever shifting with SensorShift
Get the benefit of a very unique concept: STOBER SensorShift – a special digital gear shift control developed for shifting between the two stages.
The critical moment in shifting is when the gears mesh together just after the planetary gear is activated in the transmitted gear. SensorShift detects this moment in advance and briefly reduces the velocity. This reduces the shifting error rate to less than 0.01%!
The gentle acceleration and deceleration ramps also protect the mechanics while increasing the service life.
By the way, SensorShift has a completely non-contact design and is therefore free of wear. The number of gear switches is counted and stored. Another plus: The split-second teach-in function makes mechanical setting, as for limit switches, absolutely unnecessary.
TECHNICAL DATA
PS SERIES
| | | | | | |
| --- | --- | --- | --- | --- | --- |
| Power density: | | | | | |
| Price category: | € | € | € | € | € |
Total ratio: 1 – 5.5
Permissible input speed: 2500 – 10000 rpm
Nominal power: 39 – 47 kW
Maximum torque S3 operation: 400 – 2200 Nm
Find your right fit!
FEATURES
PS SERIES
Shaft: Flanged shaft, solid shaft without or with two feather keys
Housing:

Gear unit and shift housing made from one mold
Short, medium or long bearing distance, all with an option for a cooling flange
Bearing:

Standard (deep-groove ball bearing)
Axially or radially reinforced (angular contact ball bearings or cylindrical roller bearings)
Lubricants and maintenance:

Splash lubrication for standard applications in a closed housing
Circulating lubrication with an external tank
Two-speed switching:

Transmitted gear: High-precision, helical planetary gear unit with the ratios i = 1 or i = 5.5
Direct gear: Gear ratio i = 1; the planetary set is completely decoupled
Optional neutral gear position
Recommended motors: Can be attached to all common synchronous servo motors for screw drives
DOCUMENTS
Title
Version
ID
Date
Language
Size / Type
No results were found.
Title
Version
ID
Date
Language
Size / Type
No results were found.
Title
Version
ID
Date
Language
Size / Type
No results were found.
Title
Version
ID
Date
Language
Size / Type
No results were found.
SERVICES
Consulting & support
Technology Consulting
Take advantage of the expertise of our application engineers in the Sales Centers or contact our first level support.
OPEN
Tools & software
SERVOsoft®
With SERVOsoft®, you have a tool at your fingertips that lets you design your drive systems with precise scaling in just a few steps. Electrical as well as mechanical design, and simple and fast at the same time.
OPEN
STOBER Configurator
With the intuitive STOBER product configurator, you can filter, compare, save and share the right drive solutions with ease.
OPEN
STOBER CAD
Are you looking for CAD data? With the STOBER CAD tool, the drawings you need are ready for download in just a few clicks.
OPEN
Service, replacement & repair
Service Network
STOBER is present in over 40 countries worldwide with 12 subsidiaries and 80 service partners. No matter where, no matter when, we're always at your service and on the move!
OPEN
Replacement & Repair
Do you need competent help with replacement parts, replacement drives, repairs and retrofitting? Feel free to contact us! We also offer a 24-hour hotline for urgent cases.
OPEN
24-hour emergency number for urgent cases.
We are here for you.
AT home in the world of demanding motion.
Our product portfolio is modular and freely scalable, offering a very wide range of combination options. A drive system for custom-fit, compact machine concepts. With the option to make adjustments to fit the project.
This might also interest you